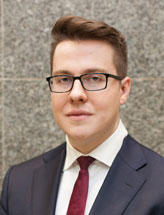 Mark
Jordan
Location:
Edmonton, Alberta, Canada
Phone:
780-429-1010
Fax:
780-429-0101
Email:
Mark Jordan is originally from Victoria and completed his Bachelor of Arts in Political Science at the University of Victoria. He moved to Edmonton for law school where he completed his law degree at the University of Alberta. Mark was heavily involved in extracurricular activities while in law school. Most notably, he was Vice President of the Law Students' Association.
Mark has a passion for criminal law and protecting the rights of people who are criminally charged. In law school, he was the recipient of the Alberta Crown Attorney's Association Prize in Criminal Procedure after he received an A+ in the course. He appears in court almost daily where he regularly conducts trials, preliminary hearings, and bail hearings.
Mark has successfully represented clients in the Provincial Court of Alberta and the Court of Queen's Bench of Alberta. His clients have been charged with a variety of criminal offences including: impaired driving, drug trafficking, attempted murder, sexual assault, aggravated assault, assault, robbery, break & enter, theft, and weapons offences.
Mark would be happy to speak with you over the phone or meet with you in person for a free consultation to discuss your case and the defences available to you. He is available to speak to you on any day, at any time.
Education
University of Alberta, Faculty of Law

, Edmonton, Alberta, Canada

University of Victoria
Contact Our Office
SOUTHSIDE OFFICE
4107 – 99 Street
Edmonton, AB T6E 3N4
780-486-8686
780-490-4363
Map & Directions
Find Out What We Can Do For You
We are here to answer your questions, address your concerns, and provide you with legal advice that you can count on.