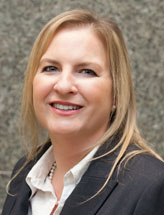 Lynn Marie
Rideout
Location:
Edmonton, Alberta, Canada
Phone:
780-429-1010
Fax:
780-429-0101
Email:
Lynn Marie Rideout is very proud to add her name to the firm she has had so much joy and fulfilment to be a part of for more than 20 years.
After completing her Bachelor of Arts in Criminology at the University of Alberta in 1988, Lynn Marie worked in the legal profession for 17 years, preparing legal arguments for lawyers and providing general management responsibilities, before going back to law school.
Throughout her career, Lynn has conducted hearings and assisted other counsel in all levels of court in Alberta, Saskatchewan, British Columbia and the Northwest Territories.
Lynn is a fierce advocate in criminal trials and appeals, and provides high-quality services in the areas of wills and estates. Her unmatched versatility complements her extensive experience and ensures that our clients will be afforded full protection from injustice.
Lynn was a Girl Guide for 13 years and now has been a Girl Guide leader for 10 years with her daughters. She also volunteers with their schools and figure skating club, keeping her always active and busy.
Areas of Practice
Criminal Law
Wills & Estates
Education
University of Alberta, Faculty of Law

, Edmonton, Alberta, Canada

University of Alberta

B.A., Bachelor of Arts – 1988
Contact Our Office
DOWNTOWN OFFICE
Suite 520 Manulife Place 10180-101 Street
Edmonton, ABT5J 3S4
780-429-1010
780-429-0101
Edmonton Law Office Map
SOUTHSIDE OFFICE
4107 – 99 Street
Edmonton, AB T6E 3N4
780-486-8686
780-490-4363
Map & Directions
Find Out What We Can Do For You
We are here to answer your questions, address your concerns, and provide you with legal advice that you can count on.