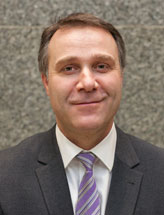 Walter
Raponi
Location:
Edmonton, Alberta, Canada
Phone:
780-429-1010
Fax:
780-429-0101
Email:
I completed my undergraduate degree in Environmental Studies (B.ES.) in 1990 from the University of Waterloo. In 1994, I obtained my Law degree from Dalhousie University in Halifax, N.S.
Since 1994, I have taken up residence in Edmonton, Alberta and have restricted my practice exclusively to the area of Criminal Defence. I appear in court on a daily basis and have defended people in many different levels of court in Alberta, Saskatchewan and British Columbia as well as the Supreme Court of Canada.
I am a strong supporter of the Canadian Charter of Rights and Freedoms, and believe in the proper representation of all individuals in our justice system regardless of the allegations in question, or the social/economic background of an accused person.
Education
Dalhousie Law School

, Halifax, Nova Scotia, Canada

University of Alberta, Faculty of Law

, Edmonton, Alberta, Canada

University of Waterloo in Ontario

bachelor of Environmental Studies (B.ES.) Honours: Dean's list – 1990
Professional Associations and Memberships
Criminal Trial Lawyers Association (CTLA)

, Member
Contact Our Office
SOUTHSIDE OFFICE
4107 – 99 Street
Edmonton, AB T6E 3N4
780-486-8686
780-490-4363
Map & Directions
Find Out What We Can Do For You
We are here to answer your questions, address your concerns, and provide you with legal advice that you can count on.