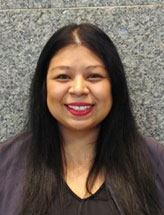 Karla
Cornejo
Location:
Edmonton, Alberta, Canada
Phone:
780-429-1010
Fax:
780-429-0101
Email:
Born in El Salvador and raised in Camrose, Alberta, Karla Cornejo attended the University of Alberta, obtaining a Bachelor of Arts in Political Science with a minor in Spanish Language and Literature. She obtained her Law degree from the University of Kent in Canterbury, England. After completing her law degree in England she returned to Edmonton, Alberta to commence her National Accreditation Exams and upon completion of those exams she commenced her Articles in Edmonton.
Karla practices primarily in the areas of Family Law and Personal Injury. With interests in the areas of Immigration and Criminal Law. Karla has appeared in the Provincial Court of Alberta, the Court of Queen's Bench of Alberta and the Alberta Court of Appeal.
She is currently accepting new files and can generally meet with potential clients within forty eight hours of their initial telephone call to Raponi Rideout Tarrabain.
Education
University of Kent College of Law

, Canterbury, England

Honors: First Class Honours

University of Alberta
Professional Associations and Memberships
Alberta Civil Trial Lawyers Association
Languages
English (Primary)
Spanish
Contact Our Office
DOWNTOWN OFFICE
Suite 520 Manulife Place 10180-101 Street
Edmonton, ABT5J 3S4
780-429-1010
780-429-0101
Edmonton Law Office Map
SOUTHSIDE OFFICE
4107 – 99 Street
Edmonton, AB T6E 3N4
780-486-8686
780-490-4363
Map & Directions
Find Out What We Can Do For You
We are here to answer your questions, address your concerns, and provide you with legal advice that you can count on.