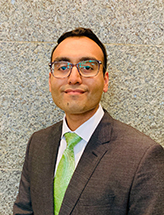 Akshay
Verma
Location:
Edmonton, Alberta, Canada
Phone:
780-429-1010
Fax:
780-429-0101
Email:
Akshay Verma is from and calls Edmonton home. He completed his Bachelor of Science in Biological Sciences at the University of Alberta, graduating with Distinction. During his time spent with the Faculty of Science, he was involved with various research studies, namely with the Alberta Brain and Cognitive Development lab, and the Department of Palaeontology under scientist Phillip Currie, where he contributed as a Research Assistant for a collective of 2 years for various group and individually-led research projects. After completion of his BSc, he attended the Faculty of Business for their Bachelor of Commerce After Degree, in Accounting. Prior to finishing his BComm degree, he accepted a seat at the School of Law at the University of Leeds. Upon obtaining his LLB, with Honours, he transferred to the University of Alberta, Faculty of Law to transfer his credentials and finished his legal studies in April of 2019.
During his University career, Akshay was heavily involved in extracurricular activities with organizations such as Student Legal Services, REACH Edmonton Student Association, Sports4Success, Big Brothers Big Sisters, the Stollery Children's Hospital, New Chapter Foundation, Canadian Blood Services, Edmonton Humane Society, and the Students International Health Association. Akshay believes strongly in the value of community services, advocacy for social justice, liberty, and rights.
For his academic work, Akshay received the Leeds School of Law Academic Merit Scholarship, as well as the Jason Lang Scholarship. For his community service, Akshay has received the prestigious Stars of Alberta Provincial Award, Hilda Wilson Memorial Award, Cristal Mar Memorial Award, University of Alberta Leadership Scholarship, a Letter of Appreciation from a former Alberta Premier, and the Student Community Internship Program bursaries.
Akshay articled under Walter Raponi with Raponi Rideout Tarrabain over the 2019 term, where he appeared in Court regularly to speak to matters in Docket, assisted with Trial preparation and research, conducted Bail hearings and Resolutions, and coordinated tasks with the CMO. Akshay joined the firm of Raponi Rideout Tarrabain after his articles as an Associate. Apart from Criminal Defence, Akshay also works in the fields Family law, small Civil claims, Personal Injury, and Wills & Estates. Being fluent in Hindi, Urdu, and Punjabi, Akshay would be happy to speak with you over the phone or meet with you in person to discuss your case.
Contact Our Office
DOWNTOWN OFFICE
Suite 520 Manulife Place 10180-101 Street
Edmonton, ABT5J 3S4
780-429-1010
780-429-0101
Edmonton Law Office Map
SOUTHSIDE OFFICE
4107 – 99 Street
Edmonton, AB T6E 3N4
780-486-8686
780-490-4363
Map & Directions
Find Out What We Can Do For You
We are here to answer your questions, address your concerns, and provide you with legal advice that you can count on.